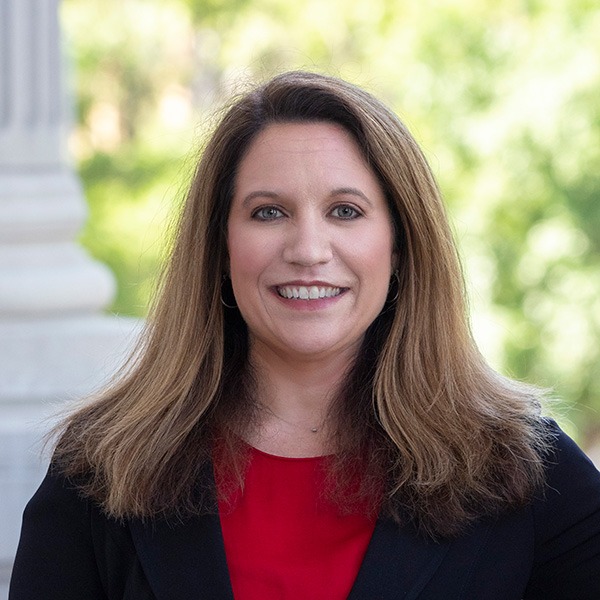 Thomas M. Cooley Law School, J.D. magna cum laude 2009, Law Review
Virginia Commonwealth University, M.S Criminal Justice 2002
The University of North Carolina at Chapel Hill, B.S. Biology 1998
The Brocker Law Firm, P.A. – Shareholder
Vincent E. Carlson & Associates, PLC – Associate
Law Office of Kevin B. Megley, PLC – Associate
Judicial Externship – U.S. District Court Judge Janet T. Neff, Grand Rapids, MI
North Carolina State Bar
United States District Court for the Eastern District of NC
Member of 10th Judicial District Bar
Member of the Wake County Bar Association
Michigan State Bar (inactive)
United States District Court for the Western District of MI
Member of the Professionalism Committee of the 10th Judicial District Bar/Wake County Bar Association
Peak Lab Rescue Foster Volunteer
Crystal S. Carlisle
Attorney
Crystal Carlisle began working with The Brocker Law Firm, P.A. in December of 2012.  She concentrates her practice in professional licensing and disciplinary matters, representing attorneys, bar candidates, medical professionals, pharmacists, therapists/counselors and contractors, among others. Crystal represents the North Carolina State Board of Dental Examiners in informal and contested case disciplinary matters and unauthorized practice matters.  She also reviews and analyzes management arrangements for the Dental Board.
Crystal attended Thomas M. Cooley Law School at night while working as a paralegal.  She graduated magna cum laude from Thomas M. Cooley Law School in 2009.  During law school, she completed an externship with Honorable Janet T. Neff in the U.S. District Court of the Western District of Michigan and served as Senior Associate Editor of the Law Review.  Crystal practiced law in Michigan for three years, primarily handling civil litigation matters, before relocating back to her home state of North Carolina.
Crystal served as the past Chair of the Professionalism Committee of the North Carolina Bar Association and serves on the North Carolina Bar Association Administrative Law Council.  She has also served as Secretary of the Wake County Bar Association and Tenth Judicial District Bar and on the Professionalism Committee of the WCBA/Tenth where she received the President's Award of Excellence for her work on the committee. Crystal regularly speaks at continuing legal education conferences on professionalism and disciplinary matters
When not practicing law, Crystal enjoys fostering dogs for Peak Lab Rescue, attending CrossFit classes, and vacationing with her family.
Thomas M. Cooley Law School, J.D. magna cum laude 2009, Law Review
Virginia Commonwealth University, M.S Criminal Justice 2002
The University of North Carolina at Chapel Hill, B.S. Biology 1998
The Brocker Law Firm, P.A. – Shareholder
Vincent E. Carlson & Associates, PLC – Associate
Law Office of Kevin B. Megley, PLC – Associate
Judicial Externship – U.S. District Court Judge Janet T. Neff, Grand Rapids, MI
North Carolina State Bar
United States District Court for the Eastern District of NC
Member of 10th Judicial District Bar
Member of the Wake County Bar Association
Michigan State Bar (inactive)
United States District Court for the Western District of MI
Member of the Professionalism Committee of the 10th Judicial District Bar/Wake County Bar Association
Peak Lab Rescue Foster Volunteer